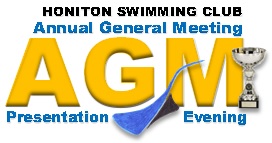 Our annual awards presentation evening will be held on the evening of Saturday 11th May.  This is our main social event of the year where swimmers' receive awards from the Club Championships, and also where endeavours and achievements throughout the year are recognised.
This year we are also combining the presentation night with the Annual General Meeting (AGM) where the wider club events and future plans will be discussed.
We have made tremendous progress in the club over the last two years and we want to feel that everybody is a part of it.
Please put this date on your calendars now, and we will send out more details shortly.